Britta Barton, Physician Assistant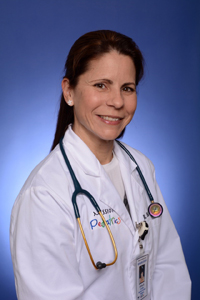 Britta Barton has served the community for over 20 years.  When she was a child, her own pediatrician inspired her to help others and she got her start as an EMT then Paramedic responding to 911 calls for over 10 years.  She enjoyed emergency services so much she began teaching at local community colleges teaching new EMTs and Paramedics and she continues to teach today.  Britta also worked for the Riverside County Department of Public Health, Emergency Preparedness and Response (PHEPR) Branch as the Senior Emergency Medical Services (EMS) Specialist and Disaster Coordinator for Riverside County.  Her roles included managing grants and assisting the medical health community prepare for all types of disasters.  She also worked with the Riverside County Emergency Medical Services Agency (REMSA) coordinating an international study on CPR and Defibrillation and was subsequently a co-contributor to an article published in the New England Journal of Medicine.  Britta earned her Bachelors of Science in Education from Southern Illinois University, her Masters in Medical Science from St Francis University and earned her Physician Assistant's Certification from Stanford University School of Medicine.
Britta lives in Riverside County with her husband, three sons and two dogs.  She loves having a house full of energy, and believes that if you inspire a child to be their best they will in turn inspire someone else.  It's a gift with tremendous potential.  Giving is the best medicine!